The CoLab develops its own governance processes and structures.
However, it does not re-invent the wheel.
Its current structure and processes are influenced by the Socioratic Circle-Organization Method (SCM), the Constellation Framework and Sociocracy 3.0. The Constellation Framework mainly influences the overall structure of the CoLab. The SCM and Sociocracy 3.0 leads us to make policy decisions by consent, using an inclusive and deliberative design process. Domains of work in the CoLab are delegated to semi-autonomous 'circles' (groups, teams) connected by a circular feedback structure. Equivalence, transparency, and effectiveness are core values of the CoLab.
Sociocracy is a whole systems approach to governance using consent-based decision making which creates a safe environment for people to self-govern. Sociocracy uses a fractal organizational structure with a circular hierarchy. The different Circles are working groups that have their own mission and aims and each Circle makes decisions about the responsibilities in their domain. CoLab tries to embody many of the Sociocratic principles.
Here's a diagram which can give you more of a sense of CoLabs current (mid-2021)and potential structure. In this diagram we indicate where the Sociocracy Boundary is, that is which Circle, project and initiatives use Sociocracy, and the Slack boundary, which initiatives that don't use Sociocracy but also use CoLabs Slack space.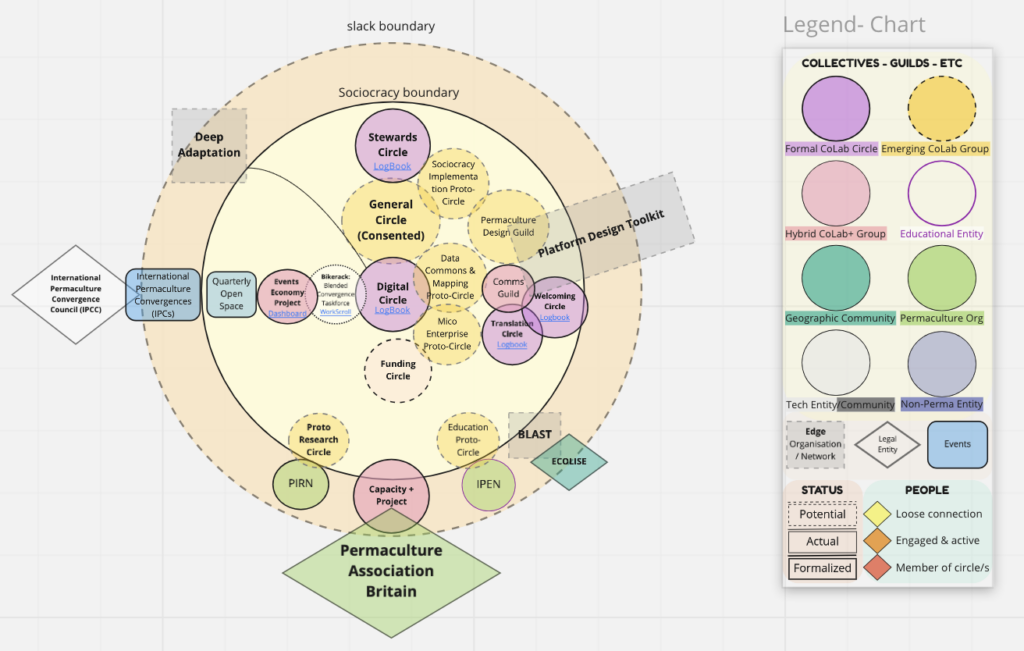 Financial Transparency
Most circles use Open Collective in order to be transparent in the way funds are managed.