Advocates Community of Practice
November 8, 2021 @ 3:15 pm

-

4:45 pm

UTC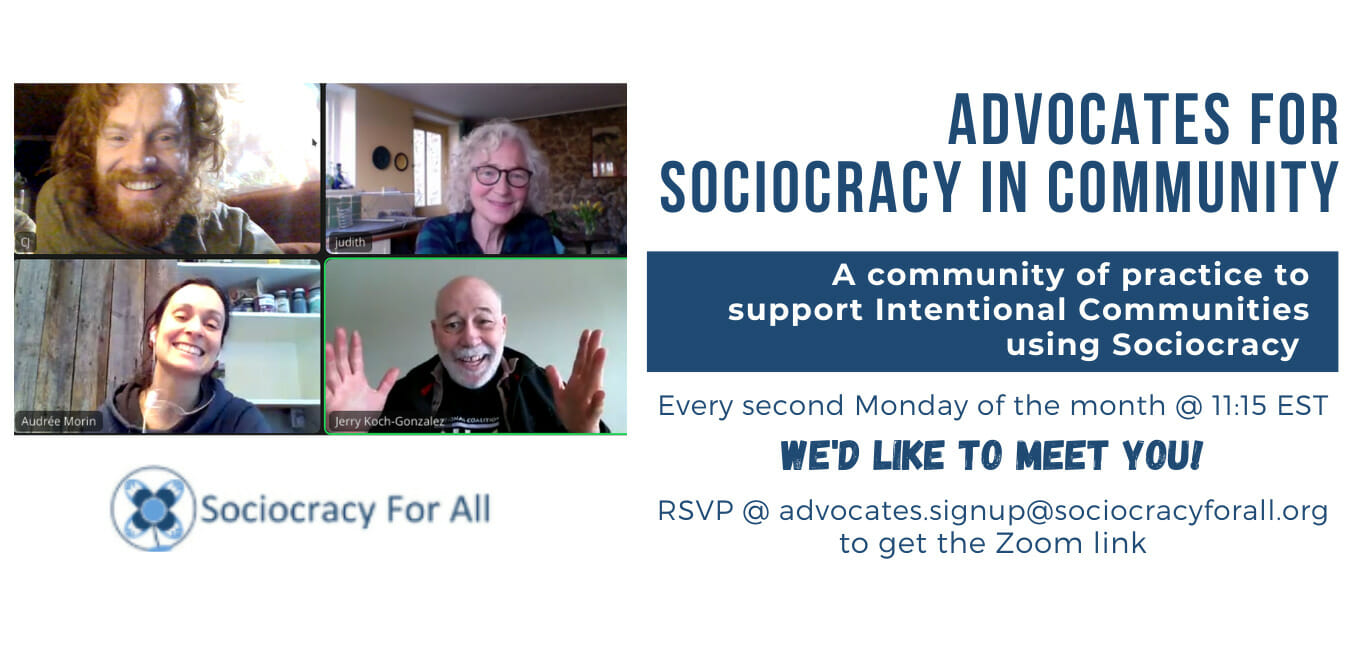 At SoFA, we offer free communities of practice to our working and supporting members. Our most active and oldest one, Advocates for Sociocracy in Community, is meeting soon!
This online gathering offers a space for members of forming or established intentional communities to share and support each other with their experience implementing and using Sociocracy.
This community of practice is for you if you're already trained and using Sociocracy in a forming or established co-housing, ecovillage or other intentional community, and you want to share your experience, get support from other community members and from SoFA trainers and staff, or just meet fellow community and sociocracy enthusiasts.
When joining a session of our online gathering, you will meet participants from forming and established communities such as Port Townsend Ecovillage (OR), Pioneer Valley Community (MA), Bridport Cohousing (UK), Eden Community (TX), and Cohousing Hamilton (ON-CA). We discuss themes such as how to implement Sociocracy, conflict resolution, policy vs operations, managing objections, and much more.
We meet once a month, for 1h30, at 3:15 pm UTC (see local time here). It's a drop in group, and we'd be delighted to meet you and learn about your community in our next session.
These sessions are a free offer for our SOFA members.
The steps to join are:
Fill out the form on the bottom of this event page (you will receive an automated confirmation message when your form is successfully submitted).
Check your email! Your Community of Practice coordinator will email you to confim your SoFA membership or assist you in signing up if you're not already a member (you can attend one session even if you're not done with the process).
10 minutes before the session, check your email and click the Zoom Link.
If the time doesn't work for you, please let us know, we could start another cohort if there is enough interest.
Notice: JavaScript is required for this content.

var formDisplay=1;var nfForms=nfForms||[];var form=[];form.id='34';form.settings={"objectType":"Form Setting","editActive":true,"title":"Advocates Community of Practice Sign Up Form","show_title":1,"allow_public_link":0,"embed_form":"","clear_complete":1,"hide_complete":1,"default_label_pos":"above","wrapper_class":"","element_class":"","key":"","add_submit":0,"changeEmailErrorMsg":"Please enter a valid email address!","changeDateErrorMsg":"Please enter a valid date!","confirmFieldErrorMsg":"These fields must match!","fieldNumberNumMinError":"Number Min Error","fieldNumberNumMaxError":"Number Max Error","fieldNumberIncrementBy":"Please increment by ","formErrorsCorrectErrors":"Please correct errors before submitting this form.","validateRequiredField":"This is a required field.","honeypotHoneypotError":"Honeypot Error","fieldsMarkedRequired":"Fields marked with an * are required","currency":"","repeatable_fieldsets":"","unique_field_error":"A form with this value has already been submitted.","logged_in":false,"not_logged_in_msg":"","sub_limit_msg":"The form has reached its submission limit.","calculations":[],"save_progress_allow_multiple":false,"save_progress_table_legend":"Load saved progress","save_progress_table_columns":[{"errors":[],"max_options":0,"label":"Column Title","field":"{field}","order":0,"settingModel":{"settings":false,"hide_merge_tags":false,"error":false,"name":"save_progress_table_columns","type":"option-repeater","label":"Save Table Columns Add New","width":"full","group":"primary","columns":{"field":{"header":"Field Key","default":""}},"value":[{"label":"Column Title","field":"{field}","order":0}],"tmpl_row":"tmpl-nf-save-progress-table-columns-repeater-row"}}],"container_styles_show_advanced_css":0,"title_styles_show_advanced_css":0,"row_styles_show_advanced_css":0,"row-odd_styles_show_advanced_css":0,"success-msg_styles_show_advanced_css":0,"error_msg_styles_show_advanced_css":0,"conditions":[],"mp_breadcrumb":0,"mp_progress_bar":0,"mp_display_titles":0,"mp_prev_label":"","mp_next_label":"","breadcrumb_container_styles_border":"","breadcrumb_container_styles_height":"","breadcrumb_container_styles_width":"","breadcrumb_container_styles_margin":"","breadcrumb_container_styles_padding":"","breadcrumb_container_styles_float":"","breadcrumb_container_styles_show_advanced_css":0,"breadcrumb_buttons_styles_border":"","breadcrumb_buttons_styles_height":"","breadcrumb_buttons_styles_width":"","breadcrumb_buttons_styles_font-size":"","breadcrumb_buttons_styles_margin":"","breadcrumb_buttons_styles_padding":"","breadcrumb_buttons_styles_float":"","breadcrumb_buttons_styles_show_advanced_css":0,"breadcrumb_button_hover_styles_border":"","breadcrumb_button_hover_styles_height":"","breadcrumb_button_hover_styles_width":"","breadcrumb_button_hover_styles_font-size":"","breadcrumb_button_hover_styles_margin":"","breadcrumb_button_hover_styles_padding":"","breadcrumb_button_hover_styles_float":"","breadcrumb_button_hover_styles_show_advanced_css":0,"breadcrumb_active_button_styles_border":"","breadcrumb_active_button_styles_height":"","breadcrumb_active_button_styles_width":"","breadcrumb_active_button_styles_font-size":"","breadcrumb_active_button_styles_margin":"","breadcrumb_active_button_styles_padding":"","breadcrumb_active_button_styles_float":"","breadcrumb_active_button_styles_show_advanced_css":0,"progress_bar_container_styles_border":"","progress_bar_container_styles_height":"","progress_bar_container_styles_width":"","progress_bar_container_styles_margin":"","progress_bar_container_styles_padding":"","progress_bar_container_styles_float":"","progress_bar_container_styles_show_advanced_css":0,"progress_bar_fill_styles_border":"","progress_bar_fill_styles_height":"","progress_bar_fill_styles_margin":"","progress_bar_fill_styles_padding":"","progress_bar_fill_styles_show_advanced_css":0,"part_titles_styles_border":"","part_titles_styles_height":"","part_titles_styles_width":"","part_titles_styles_font-size":"","part_titles_styles_margin":"","part_titles_styles_padding":"","part_titles_styles_float":"","part_titles_styles_show_advanced_css":0,"navigation_container_styles_border":"","navigation_container_styles_height":"","navigation_container_styles_width":"","navigation_container_styles_margin":"","navigation_container_styles_padding":"","navigation_container_styles_float":"","navigation_container_styles_show_advanced_css":0,"previous_button_styles_border":"","previous_button_styles_height":"","previous_button_styles_width":"","previous_button_styles_font-size":"","previous_button_styles_margin":"","previous_button_styles_padding":"","previous_button_styles_show_advanced_css":0,"next_button_styles_border":"","next_button_styles_height":"","next_button_styles_width":"","next_button_styles_font-size":"","next_button_styles_margin":"","next_button_styles_padding":"","next_button_styles_show_advanced_css":0,"navigation_hover_styles_border":"","navigation_hover_styles_height":"","navigation_hover_styles_width":"","navigation_hover_styles_font-size":"","navigation_hover_styles_margin":"","navigation_hover_styles_padding":"","navigation_hover_styles_show_advanced_css":0,"formContentData":[{"formContentData":[{"order":1,"cells":[{"order":0,"fields":["firstname_1623691597791″],"width":50},{"order":1,"fields":["lastname_1623691615352″],"width":50}]},{"order":2,"cells":[{"order":0,"fields":["email_1623691634086″],"width":"100″}]},{"order":3,"cells":[{"order":0,"fields":["yes_sociocracy_for_all_can_send_me_emails_1623691980216″],"width":"100″}]},{"order":4,"cells":[{"order":0,"fields":["yes_sociocracy_for_all_can_store_basic_infomation_i_provide_about_myself_1623692071337″],"width":"100″}]},{"order":5,"cells":[{"order":0,"fields":["html_1623692173407″],"width":"100″}]}],"order":0,"type":"part","clean":true,"title":"Part Title","key":"fkaclsc"},{"formContentData":[{"order":1,"cells":[{"order":0,"fields":["what_is_your_community_s_name_1623692412904″],"width":"100″}]},{"order":2,"cells":[{"order":0,"fields":["tell_us_about_your_experience_with_sociocracy_1623692314300″],"width":"100″}]},{"order":3,"cells":[{"order":0,"fields":["are_you_already_a_member_1623691808326″],"width":"100″}]},{"order":4,"cells":[{"order":0,"fields":["are_you_a_part_of_a_community_that_is_an_organizational_member_1623691871845″],"width":"100″}]},{"order":5,"cells":[{"order":0,"fields":["submit_1623692288193″],"width":"100″}]}],"order":1,"type":"part","clean":true,"title":"Part Title","key":"tlsfd"}],"drawerDisabled":false,"public_link":"https://www.sociocracyforall.org/ninja-forms/34cra9″,"public_link_key":"34cra9″,"ninjaForms":"Ninja Forms","fieldTextareaRTEInsertLink":"Insert Link","fieldTextareaRTEInsertMedia":"Insert Media","fieldTextareaRTESelectAFile":"Select a file","formHoneypot":"If you are a human seeing this field, please leave it empty.","fileUploadOldCodeFileUploadInProgress":"File Upload in Progress.","fileUploadOldCodeFileUpload":"FILE UPLOAD","currencySymbol":"$","thousands_sep":",","decimal_point":".","siteLocale":"en_US","dateFormat":"m/d/Y","startOfWeek":"1″,"of":"of","previousMonth":"Previous Month","nextMonth":"Next Month","months":["January","February","March","April","May","June","July","August","September","October","November","December"],"monthsShort":["Jan","Feb","Mar","Apr","May","Jun","Jul","Aug","Sep","Oct","Nov","Dec"],"weekdays":["Sunday","Monday","Tuesday","Wednesday","Thursday","Friday","Saturday"],"weekdaysShort":["Sun","Mon","Tue","Wed","Thu","Fri","Sat"],"weekdaysMin":["Su","Mo","Tu","We","Th","Fr","Sa"],"save_progress_actions":{"108":{"active":null},"106″:{"active":null},"107″:{"active":null}},"currency_symbol":"","beforeForm":"
n","beforeFields":"","afterFields":"","afterForm":""};form.fields=[{"objectType":"Field","objectDomain":"fields","editActive":false,"order":1,"idAttribute":"id","label":"First Name","type":"firstname","key":"firstname_1623691597791″,"label_pos":"above","required":1,"default":"","placeholder":"","container_class":"","element_class":"","admin_label":"","help_text":"","custom_name_attribute":"fname","personally_identifiable":1,"wrap_styles_border":"","wrap_styles_width":"","wrap_styles_margin":"","wrap_styles_padding":"","wrap_styles_float":"","wrap_styles_show_advanced_css":0,"label_styles_border":"","label_styles_width":"","label_styles_font-size":"","label_styles_margin":"","label_styles_padding":"","label_styles_float":"","label_styles_show_advanced_css":0,"element_styles_border":"","element_styles_width":"","element_styles_font-size":"","element_styles_margin":"","element_styles_padding":"","element_styles_float":"","element_styles_show_advanced_css":0,"cellcid":"c5205″,"value":"","drawerDisabled":false,"id":410,"beforeField":"","afterField":"","parentType":"firstname","element_templates":["firstname","input"],"old_classname":"","wrap_template":"wrap"},{"objectType":"Field","objectDomain":"fields","editActive":false,"order":2,"idAttribute":"id","label":"Last Name","type":"lastname","cellcid":"c5208″,"key":"lastname_1623691615352″,"label_pos":"above","required":1,"default":"","placeholder":"","container_class":"","element_class":"","admin_label":"","help_text":"","custom_name_attribute":"lname","personally_identifiable":1,"wrap_styles_border":"","wrap_styles_width":"","wrap_styles_margin":"","wrap_styles_padding":"","wrap_styles_float":"","wrap_styles_show_advanced_css":0,"label_styles_border":"","label_styles_width":"","label_styles_font-size":"","label_styles_margin":"","label_styles_padding":"","label_styles_float":"","label_styles_show_advanced_css":0,"element_styles_border":"","element_styles_width":"","element_styles_font-size":"","element_styles_margin":"","element_styles_padding":"","element_styles_float":"","element_styles_show_advanced_css":0,"value":"","drawerDisabled":false,"id":412,"beforeField":"","afterField":"","parentType":"lastname","element_templates":["lastname","input"],"old_classname":"","wrap_template":"wrap"},{"objectType":"Field","objectDomain":"fields","editActive":false,"order":3,"idAttribute":"id","label":"Email","type":"email","key":"email_1623691634086″,"label_pos":"above","required":1,"default":"","placeholder":"","container_class":"","element_class":"","admin_label":"","help_text":"","custom_name_attribute":"email","personally_identifiable":1,"wrap_styles_border":"","wrap_styles_width":"","wrap_styles_margin":"","wrap_styles_padding":"","wrap_styles_float":"","wrap_styles_show_advanced_css":0,"label_styles_border":"","label_styles_width":"","label_styles_font-size":"","label_styles_margin":"","label_styles_padding":"","label_styles_float":"","label_styles_show_advanced_css":0,"element_styles_border":"","element_styles_width":"","element_styles_font-size":"","element_styles_margin":"","element_styles_padding":"","element_styles_float":"","element_styles_show_advanced_css":0,"cellcid":"c5211″,"value":"","drawerDisabled":false,"id":414,"beforeField":"","afterField":"","parentType":"email","element_templates":["email","input"],"old_classname":"","wrap_template":"wrap"},{"objectType":"Field","objectDomain":"fields","editActive":false,"order":999,"idAttribute":"id","type":"checkbox","label":"Yes, Sociocracy for All can send me emails.","key":"yes_sociocracy_for_all_can_send_me_emails_1623691980216″,"label_pos":"right","required":1,"container_class":"","element_class":"","manual_key":false,"admin_label":"","help_text":"","default_value":"unchecked","checked_value":"Yes","unchecked_value":"Unchecked","checked_calc_value":"","unchecked_calc_value":"","wrap_styles_border":"","wrap_styles_width":"","wrap_styles_margin":"","wrap_styles_padding":"","wrap_styles_float":"","wrap_styles_show_advanced_css":0,"label_styles_border":"","label_styles_width":"","label_styles_font-size":"","label_styles_margin":"","label_styles_padding":"","label_styles_float":"","label_styles_show_advanced_css":0,"element_styles_border":"","element_styles_width":"","element_styles_font-size":"","element_styles_margin":"","element_styles_padding":"","element_styles_float":"","element_styles_show_advanced_css":0,"cellcid":"c5214″,"drawerDisabled":false,"id":417,"beforeField":"","afterField":"","value":"","parentType":"checkbox","element_templates":["checkbox","input"],"old_classname":"","wrap_template":"wrap"},{"objectType":"Field","objectDomain":"fields","editActive":false,"order":999,"idAttribute":"id","type":"checkbox","label":"Yes, Sociocracy for All can store basic infomation I provide about myself.","key":"yes_sociocracy_for_all_can_store_basic_infomation_i_provide_about_myself_1623692071337″,"label_pos":"right","required":1,"container_class":"","element_class":"","manual_key":false,"admin_label":"","help_text":"","default_value":"unchecked","checked_value":"Yes","unchecked_value":"Unchecked","checked_calc_value":"","unchecked_calc_value":"","wrap_styles_border":"","wrap_styles_width":"","wrap_styles_margin":"","wrap_styles_padding":"","wrap_styles_float":"","wrap_styles_show_advanced_css":0,"label_styles_border":"","label_styles_width":"","label_styles_font-size":"","label_styles_margin":"","label_styles_padding":"","label_styles_float":"","label_styles_show_advanced_css":0,"element_styles_border":"","element_styles_width":"","element_styles_font-size":"","element_styles_margin":"","element_styles_padding":"","element_styles_float":"","element_styles_show_advanced_css":0,"cellcid":"c5217″,"drawerDisabled":false,"id":418,"beforeField":"","afterField":"","value":"","parentType":"checkbox","element_templates":["checkbox","input"],"old_classname":"","wrap_template":"wrap"},{"objectType":"Field","objectDomain":"fields","editActive":false,"order":999,"idAttribute":"id","type":"html","label":"HTML","default":"
Sociocracy for All is committed to respecting your privacy. You can unsubscribe at any time. Please read our privacy policy for more details.
","container_class":"","element_class":"","wrap_styles_border":"","wrap_styles_width":"","wrap_styles_margin":"","wrap_styles_padding":"","wrap_styles_float":"","wrap_styles_show_advanced_css":0,"label_styles_border":"","label_styles_width":"","label_styles_font-size":"","label_styles_margin":"","label_styles_padding":"","label_styles_float":"","label_styles_show_advanced_css":0,"element_styles_border":"","element_styles_width":"","element_styles_font-size":"","element_styles_margin":"","element_styles_padding":"","element_styles_float":"","element_styles_show_advanced_css":0,"key":"html_1623692173407″,"cellcid":"c5220″,"drawerDisabled":false,"id":419,"beforeField":"","afterField":"","value":"
Sociocracy for All is committed to respecting your privacy. You can unsubscribe at any time. Please read our privacy policy for more details.
","label_pos":"above","parentType":"html","element_templates":["html","input"],"old_classname":"","wrap_template":"wrap"},{"objectType":"Field","objectDomain":"fields","editActive":false,"order":1,"idAttribute":"id","label":"What is your community's name?","type":"textbox","key":"what_is_your_community_s_name_1623692412904″,"label_pos":"above","required":1,"default":"","placeholder":"","container_class":"","element_class":"","input_limit":"","input_limit_type":"characters","input_limit_msg":"Character(s) left","manual_key":false,"admin_label":"","help_text":"","mask":"","custom_mask":"","custom_name_attribute":"","personally_identifiable":"","wrap_styles_border":"","wrap_styles_width":"","wrap_styles_margin":"","wrap_styles_padding":"","wrap_styles_float":"","wrap_styles_show_advanced_css":0,"label_styles_border":"","label_styles_width":"","label_styles_font-size":"","label_styles_margin":"","label_styles_padding":"","label_styles_float":"","label_styles_show_advanced_css":0,"element_styles_border":"","element_styles_width":"","element_styles_font-size":"","element_styles_margin":"","element_styles_padding":"","element_styles_float":"","element_styles_show_advanced_css":0,"cellcid":"c5226″,"value":"","drawerDisabled":false,"id":411,"beforeField":"","afterField":"","parentType":"textbox","element_templates":["textbox","input"],"old_classname":"","wrap_template":"wrap"},{"objectType":"Field","objectDomain":"fields","editActive":false,"order":2,"idAttribute":"id","label":"Tell us about your experience with sociocracy","type":"textarea","key":"tell_us_about_your_experience_with_sociocracy_1623692314300″,"label_pos":"above","required":1,"default":"","placeholder":"","container_class":"","element_class":"","input_limit":"","input_limit_type":"characters","input_limit_msg":"Character(s) left","manual_key":false,"admin_label":"","help_text":"","textarea_rte":"","disable_rte_mobile":"","textarea_media":"","wrap_styles_border":"","wrap_styles_width":"","wrap_styles_margin":"","wrap_styles_padding":"","wrap_styles_float":"","wrap_styles_show_advanced_css":0,"label_styles_border":"","label_styles_width":"","label_styles_font-size":"","label_styles_margin":"","label_styles_padding":"","label_styles_float":"","label_styles_show_advanced_css":0,"element_styles_border":"","element_styles_width":"","element_styles_font-size":"","element_styles_margin":"","element_styles_padding":"","element_styles_float":"","element_styles_show_advanced_css":0,"cellcid":"c5229″,"value":"","drawerDisabled":false,"id":413,"beforeField":"","afterField":"","parentType":"textarea","element_templates":["textarea","input"],"old_classname":"","wrap_template":"wrap"},{"objectType":"Field","objectDomain":"fields","editActive":false,"order":999,"idAttribute":"id","type":"listcheckbox","label":"Are you already a member?","key":"are_you_already_a_member_1623691808326″,"label_pos":"above","required":1,"options":[{"errors":[],"max_options":0,"label":"Yes","value":"Yes","calc":"","selected":0,"order":0,"settingModel":{"settings":false,"hide_merge_tags":false,"error":false,"name":"options","type":"option-repeater","label":"Options Add New Import","width":"full","group":"","value":[{"label":"One","value":"one","calc":"","selected":0,"order":0},{"label":"Two","value":"two","calc":"","selected":0,"order":1},{"label":"Three","value":"three","calc":"","selected":0,"order":2}],"columns":{"label":{"header":"Label","default":""},"value":{"header":"Value","default":""},"calc":{"header":"Calc Value","default":""},"selected":{"header":"","default":0}}},"manual_value":true},{"errors":[],"max_options":0,"label":"No","value":"No","calc":"","selected":0,"order":1,"settingModel":{"settings":false,"hide_merge_tags":false,"error":false,"name":"options","type":"option-repeater","label":"Options Add New Import","width":"full","group":"","value":[{"label":"One","value":"one","calc":"","selected":0,"order":0},{"label":"Two","value":"two","calc":"","selected":0,"order":1},{"label":"Three","value":"three","calc":"","selected":0,"order":2}],"columns":{"label":{"header":"Label","default":""},"value":{"header":"Value","default":""},"calc":{"header":"Calc Value","default":""},"selected":{"header":"","default":0}}},"manual_value":true}],"container_class":"","element_class":"","admin_label":"","help_text":"","wrap_styles_border":"","wrap_styles_width":"","wrap_styles_margin":"","wrap_styles_padding":"","wrap_styles_float":"","wrap_styles_show_advanced_css":0,"label_styles_border":"","label_styles_width":"","label_styles_font-size":"","label_styles_margin":"","label_styles_padding":"","label_styles_float":"","label_styles_show_advanced_css":0,"element_styles_border":"","element_styles_width":"","element_styles_font-size":"","element_styles_margin":"","element_styles_padding":"","element_styles_float":"","element_styles_show_advanced_css":0,"list_item_row_styles_border":"","list_item_row_styles_height":"","list_item_row_styles_width":"","list_item_row_styles_font-size":"","list_item_row_styles_margin":"","list_item_row_styles_padding":"","list_item_row_styles_float":"","list_item_row_styles_show_advanced_css":0,"list_item_label_styles_border":"","list_item_label_styles_height":"","list_item_label_styles_width":"","list_item_label_styles_font-size":"","list_item_label_styles_margin":"","list_item_label_styles_padding":"","list_item_label_styles_float":"","list_item_label_styles_show_advanced_css":0,"list_item_element_styles_border":"","list_item_element_styles_height":"","list_item_element_styles_width":"","list_item_element_styles_font-size":"","list_item_element_styles_margin":"","list_item_element_styles_padding":"","list_item_element_styles_float":"","list_item_element_styles_show_advanced_css":0,"cellcid":"c5232″,"drawerDisabled":false,"id":415,"beforeField":"","afterField":"","value":"","parentType":"list","element_templates":["listcheckbox","input"],"old_classname":"list-checkbox","wrap_template":"wrap"},{"objectType":"Field","objectDomain":"fields","editActive":false,"order":999,"idAttribute":"id","type":"listcheckbox","label":"Are you a part of a community that is an organizational member?","key":"are_you_a_part_of_a_community_that_is_an_organizational_member_1623691871845″,"label_pos":"above","required":1,"options":[{"errors":[],"max_options":0,"label":"Yes","value":"Yes","calc":"","selected":0,"order":0,"settingModel":{"settings":false,"hide_merge_tags":false,"error":false,"name":"options","type":"option-repeater","label":"Options Add New Import","width":"full","group":"","value":[{"label":"One","value":"one","calc":"","selected":0,"order":0},{"label":"Two","value":"two","calc":"","selected":0,"order":1},{"label":"Three","value":"three","calc":"","selected":0,"order":2}],"columns":{"label":{"header":"Label","default":""},"value":{"header":"Value","default":""},"calc":{"header":"Calc Value","default":""},"selected":{"header":"","default":0}}},"manual_value":true},{"errors":[],"max_options":0,"label":"No","value":"No","calc":"","selected":0,"order":1,"settingModel":{"settings":false,"hide_merge_tags":false,"error":false,"name":"options","type":"option-repeater","label":"Options Add New Import","width":"full","group":"","value":[{"label":"One","value":"one","calc":"","selected":0,"order":0},{"label":"Two","value":"two","calc":"","selected":0,"order":1},{"label":"Three","value":"three","calc":"","selected":0,"order":2}],"columns":{"label":{"header":"Label","default":""},"value":{"header":"Value","default":""},"calc":{"header":"Calc Value","default":""},"selected":{"header":"","default":0}}},"manual_value":true}],"container_class":"","element_class":"","admin_label":"","help_text":"","wrap_styles_border":"","wrap_styles_width":"","wrap_styles_margin":"","wrap_styles_padding":"","wrap_styles_float":"","wrap_styles_show_advanced_css":0,"label_styles_border":"","label_styles_width":"","label_styles_font-size":"","label_styles_margin":"","label_styles_padding":"","label_styles_float":"","label_styles_show_advanced_css":0,"element_styles_border":"","element_styles_width":"","element_styles_font-size":"","element_styles_margin":"","element_styles_padding":"","element_styles_float":"","element_styles_show_advanced_css":0,"list_item_row_styles_border":"","list_item_row_styles_height":"","list_item_row_styles_width":"","list_item_row_styles_font-size":"","list_item_row_styles_margin":"","list_item_row_styles_padding":"","list_item_row_styles_float":"","list_item_row_styles_show_advanced_css":0,"list_item_label_styles_border":"","list_item_label_styles_height":"","list_item_label_styles_width":"","list_item_label_styles_font-size":"","list_item_label_styles_margin":"","list_item_label_styles_padding":"","list_item_label_styles_float":"","list_item_label_styles_show_advanced_css":0,"list_item_element_styles_border":"","list_item_element_styles_height":"","list_item_element_styles_width":"","list_item_element_styles_font-size":"","list_item_element_styles_margin":"","list_item_element_styles_padding":"","list_item_element_styles_float":"","list_item_element_styles_show_advanced_css":0,"cellcid":"c5235″,"drawerDisabled":false,"id":416,"beforeField":"","afterField":"","value":"","parentType":"list","element_templates":["listcheckbox","input"],"old_classname":"list-checkbox","wrap_template":"wrap"},{"objectType":"Field","objectDomain":"fields","editActive":false,"order":999,"idAttribute":"id","type":"submit","label":"Submit","processing_label":"Processing","container_class":"","element_class":"","key":"submit_1623692288193″,"wrap_styles_border":"","wrap_styles_width":"","wrap_styles_margin":"","wrap_styles_padding":"","wrap_styles_float":"","wrap_styles_show_advanced_css":0,"element_styles_border":"","element_styles_width":"","element_styles_font-size":"","element_styles_margin":"","element_styles_padding":"","element_styles_float":"","element_styles_show_advanced_css":0,"submit_element_hover_styles_border":"","submit_element_hover_styles_width":"","submit_element_hover_styles_font-size":"","submit_element_hover_styles_margin":"","submit_element_hover_styles_padding":"","submit_element_hover_styles_float":"","submit_element_hover_styles_show_advanced_css":0,"cellcid":"c5238″,"drawerDisabled":false,"id":420,"beforeField":"","afterField":"","value":"","label_pos":"above","parentType":"textbox","element_templates":["submit","button","input"],"old_classname":"","wrap_template":"wrap-no-label"}];nfForms.push(form);
{{{ data.renderProgressBar() }}}
{{{ data.renderBreadcrumbs() }}}
{{{ data.renderPartTitle() }}}
{{{ data.title }}}

{{{ data.renderNextPrevious() }}}