CoLab aims to join up with other networks, organisations and partners who have a mutual vision and who advocate for, inspire and support permaculture.
Together, we work with transparency, trust, and shared learning. We use ideas and actions for social and environmental transformation. 
CoLab aims to build partnerships through friendship and professional capacity building. We put our efforts into building and making relationships stronger. We are particulary careful when selecting partners. If you are inspired to become a partner organisation, please get in touch.
Current Partners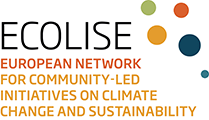 Founded in 2014 with an aim to become a shared platform for learning, action and advocacy of community based initiatives on climate change and sustainability in Europe, ECOLISE network operates ECOLISE AISBL, an international non-profit association registered in Belgium. This particular legal entity is considered to be a common, a resource managed by representatives of ECOLISE member organisations on behalf of community-led initiatives and three related social movements: permaculture, ecovillage and Transition movement.

CoLab is collaborating with ECOLISE Remote-ready, a small and experimental social enterprise that focuses on supporting people and organisations in reducing travel (and related environmental footprint) and improving their remote collaboration skills and culture.

A small team of experienced remote collaboration facilitators convened within ECOLISE as a platform and started a livelihood pod, basically a social business endeavour that is hosted by ECOLISE as a fiscal host. This team is double-linked with CoLab's Digital Circle – meaning that there is one ECOLISE Remote-ready representative in CoLab's Digital Circle and vice versa (two different individuals). Services are developed and offered in close collaboration between the two teams.

It is important to emphasise that this is not "the model" for our partnerships, just one example. Every partner is unique, so all partnerships are unique too.