Sociocracy beginner class
October 28, 2021 @ 11:00 am

-

October 29, 2021 @ 2:00 pm

EDT

£100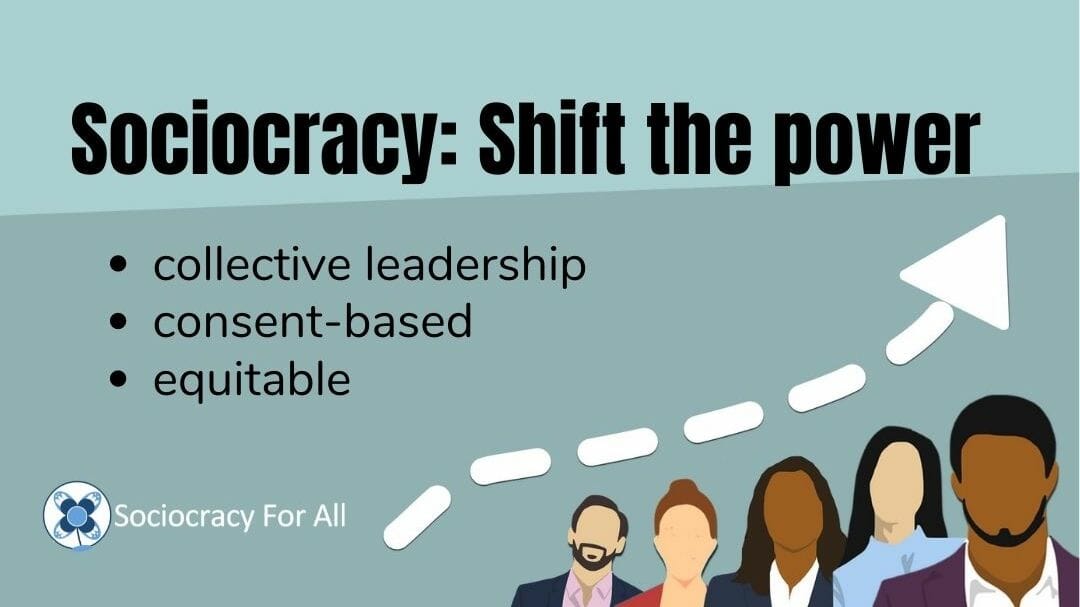 You've heard of sociocracy and you're ready to learn it? This sociocracy beginner training is for you! 
In this workshop, we will give you an overview of the basic concepts of sociocracy: how we make decisions, how we empower and connect teams and we can improve continuously over time. Exercises and role-plays let everyone experience the clarity, consideration and flow that sociocracy brings. Ca. 1/3 of the time will be on presentations, 1/3 on practical exercises and 1/3 on reflection and Q&A.
Topics
Deciding together so no one is ignored (consent)
Organizational structure
Being intentional about who does what: sociocratic open elections
Learning and feedback: how we can improve what we do and how we do it
Level
Entry: This class is most appropriate for people who have an idea of what sociocracy is but not much more, for example after attending a webinar, or seeing a video (like our 4 min video or our 19 min video). Possibly, you have gone deeper into one aspect of sociocracy, like consent.
This class also works if you're a new member of a sociocratic organization and you'd like to understand the reasons under processes done there.
See this training level in relationship to other training offerings. 
Teachers
This introduction will be co-taught by Ted Rau and Jerry Koch-Gonzalez, staff in Sociocracy For All, and co-authors of the sociocracy handbook Many Voices One Song, as well as student teachers for individual parts.
Format
This is not one of those lengthy online classes. This workshop combines presentation, practice in small groups, demos, role plays, and reflection in small breakouts for optimal learning and connection. There will be time for questions as well!
We will provide preparation materials as well as opportunities to immerse more deeply into particular areas of sociocracy after this workshop.
Access
All events will be held on zoom (a video platform). You will receive the zoom link after registration. If you have questions on the class, send an email to: events@sociocracyforall.org
Scholarships and group discounts
Scholarships: If your financial situation is keeping you from taking this class, please send a paragraph describing your need to events@sociocracyforall.org.
Group discounts. Bring a friend! If you'd like to take this class with someone else, you can receive a discount code to sign up for 30% discount each. (For 3+ people.) Request a group discount code: events@sociocracyforall.org.
Dates and times
October 28+29, each day 15-18 UTC. See your local time zone below.
2021-10-28 15:00 UTC
UTC
Hawaii Time
Alaska – Aleutian Islands – Adak
Alaska Time
Pacific Time – US, Canada, Mexico
US – Arizona; Canada – Yukon; Mexico – Sonora
Mexico – Mazatlan; Chihuahua
Mountain Time – US & Canada
Central Standard Time (Central America)
Canada – Saskatchewan – Regina
Mexico City
Central Time – US & Canada; Mexico – Matamoros
Panama; Colombia; Ecuador; Peru; Jamaica; Mexico – Cancun
Brazil – Acre (Rio Branco)
Eastern Time – US & Canada
Cuba – Havana
Amazon Time (Brazil)
Atlantic Standard Time (Caribbean)
Bolivia; Venezuela
Chile – Santiago
Canada – Halifax, Moncton; Bermuda
Paraguay – Asunción
Canada – Newfoundland – St Johns
Argentina – Buenos Aires
Brazil – Brasilia; São Paulo
Greenland – Nuuk
Saint Pierre and Miquelon
Atlantic Islands – Noronha
Cape Verde Time
Azores Time
Russia – Moscow; Belarus – Minsk
Eastern European Time
Moldova – Chisinau
Central European Time
Western European Time – UK, Ireland, Portugal
East Africa Time
Central Africa Time
West Africa Time
Morocco, Western Sahara
GMT – Abidjan; Accra; Bissau
Russia – Vladivostok
Japan; Korea; Russia – Yakutsk
China; Singapore; Russia – Irkutsk
Indochina; Russia – Krasnoyarsk
Myanmar Standard Time
Bangladesh; Russia – Omsk
Nepal – Kathmandu
India; Sri Lanka
Pakistan; Maldives; Russia – Yekaterinburg
Afghanistan – Kabul
Armenia; Azerbaijan; UAE
Iran – Tehran
Arabia Standard Time
Palestine – Gaza; West Bank
Israel – Jerusalem
Lebanon – Beirut
Syria – Damascus
Jordan – Amman
Australia – Lord_Howe
Australia – Sydney; Melbourne
Australia – Brisbane
Australia – Adelaide
Australia – Darwin
Australia – Eucla
Australia – Perth
Pago Pago; Midway Island
Marquesas
Gambier
Pitcairn Island
Easter Island
Kiritimati
Samoa – Apia
Tonga – Tongatapu
New Zealand – Chatham
New Zealand – Aukland
Fiji
Marshall Islands; Gilbert Islands
Norfolk Island
New Caledonia – Noumea
2021-10-29 15:00 UTC
UTC
Hawaii Time
Alaska – Aleutian Islands – Adak
Alaska Time
Pacific Time – US, Canada, Mexico
US – Arizona; Canada – Yukon; Mexico – Sonora
Mexico – Mazatlan; Chihuahua
Mountain Time – US & Canada
Central Standard Time (Central America)
Canada – Saskatchewan – Regina
Mexico City
Central Time – US & Canada; Mexico – Matamoros
Panama; Colombia; Ecuador; Peru; Jamaica; Mexico – Cancun
Brazil – Acre (Rio Branco)
Eastern Time – US & Canada
Cuba – Havana
Amazon Time (Brazil)
Atlantic Standard Time (Caribbean)
Bolivia; Venezuela
Chile – Santiago
Canada – Halifax, Moncton; Bermuda
Paraguay – Asunción
Canada – Newfoundland – St Johns
Argentina – Buenos Aires
Brazil – Brasilia; São Paulo
Greenland – Nuuk
Saint Pierre and Miquelon
Atlantic Islands – Noronha
Cape Verde Time
Azores Time
Russia – Moscow; Belarus – Minsk
Eastern European Time
Moldova – Chisinau
Central European Time
Western European Time – UK, Ireland, Portugal
East Africa Time
Central Africa Time
West Africa Time
Morocco, Western Sahara
GMT – Abidjan; Accra; Bissau
Russia – Vladivostok
Japan; Korea; Russia – Yakutsk
China; Singapore; Russia – Irkutsk
Indochina; Russia – Krasnoyarsk
Myanmar Standard Time
Bangladesh; Russia – Omsk
Nepal – Kathmandu
India; Sri Lanka
Pakistan; Maldives; Russia – Yekaterinburg
Afghanistan – Kabul
Armenia; Azerbaijan; UAE
Iran – Tehran
Arabia Standard Time
Palestine – Gaza; West Bank
Israel – Jerusalem
Lebanon – Beirut
Syria – Damascus
Jordan – Amman
Australia – Lord_Howe
Australia – Sydney; Melbourne
Australia – Brisbane
Australia – Adelaide
Australia – Darwin
Australia – Eucla
Australia – Perth
Pago Pago; Midway Island
Marquesas
Gambier
Pitcairn Island
Easter Island
Kiritimati
Samoa – Apia
Tonga – Tongatapu
New Zealand – Chatham
New Zealand – Aukland
Fiji
Marshall Islands; Gilbert Islands
Norfolk Island
New Caledonia – Noumea
(Can't make this time? See the same class at a different time.)