Community of Practice: leaders of sociocratic circles
October 20, 2021 @ 3:30 pm

-

4:30 pm

EDT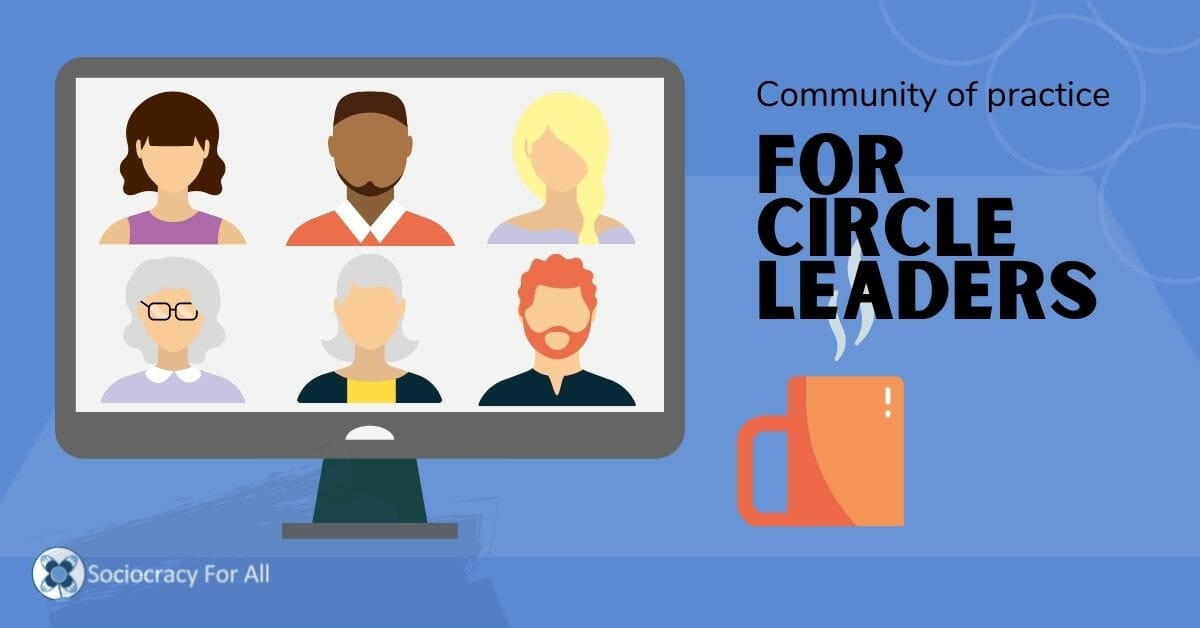 Are you holding the role of the leader of a circle in your organization? (Or a "coordinator", "lead link", etc.) Would it help you to reflect with others regularly on what it means to be a leader in a sociocratic organization?
This Community Of Practice might be helpful for you! 
What is a community of practice?
It's a regular group with defined members – so we can build trusted relationships with each other.
It's open to people who are in sociocratic circles and hold leader roles in them.
We will support each other in all the questions that come up in our role. For example, when do I push, when do I let things emerge? How can we hit the right balance between micromanagement and lack of structure or support? How do we create spaces for everyone to contribute? How does this role change how I see myself? Plus any question that you want to put on the agenda!
What happens at a meeting?
Check-in
Building the agenda: gathering topics from the group in a round
Talking about the topics (in rounds)
Check-out
Who can join?
The steps to join are:
Fill out the form at the bottom of this event page (you will receive an automated confirmation message when your form is successfully submitted).
Check your email! Your Community of Practice coordinator will email you to confirm your SoFA membership or assist you in signing up if you're not already a member (you can attend one session even if you're not done with the process).
10 minutes before the session, check your email and click the Zoom Link.
If the time doesn't work for you, please let us know, we could start another cohort if there is enough interest. 
Facilitation
This Community of Practice is facilitated by Ted Rau.
Meeting time
This group meets monthly on third Wednesdays at 19.30 UTC for one hour, starting Sept 15.
See your local time zones below.
2021-09-08 19:30 UTC

UTC

Hawaii Time
Alaska – Aleutian Islands – Adak
Alaska Time
Pacific Time – US, Canada, Mexico
US – Arizona; Canada – Yukon; Mexico – Sonora
Mexico – Mazatlan; Chihuahua
Mountain Time – US & Canada
Central Standard Time (Central America)
Canada – Saskatchewan – Regina
Mexico City
Central Time – US & Canada; Mexico – Matamoros
Panama; Colombia; Ecuador; Peru; Jamaica; Mexico – Cancun
Brazil – Acre (Rio Branco)
Eastern Time – US & Canada
Cuba – Havana
Amazon Time (Brazil)
Atlantic Standard Time (Caribbean)
Bolivia; Venezuela
Chile – Santiago
Canada – Halifax, Moncton; Bermuda
Paraguay – Asunción
Canada – Newfoundland – St Johns
Argentina – Buenos Aires
Brazil – Brasilia; São Paulo
Greenland – Nuuk
Saint Pierre and Miquelon
Atlantic Islands – Noronha

Cape Verde Time
Azores Time

Russia – Moscow; Belarus – Minsk
Eastern European Time
Moldova – Chisinau
Central European Time
Western European Time – UK, Ireland, Portugal

East Africa Time
Central Africa Time
West Africa Time
Morocco, Western Sahara
GMT – Abidjan; Accra; Bissau

Russia – Vladivostok
Japan; Korea; Russia – Yakutsk
China; Singapore; Russia – Irkutsk
Indochina; Russia – Krasnoyarsk
Myanmar Standard Time
Bangladesh; Russia – Omsk
Nepal – Kathmandu
India; Sri Lanka
Pakistan; Maldives; Russia – Yekaterinburg
Afghanistan – Kabul
Armenia; Azerbaijan; UAE
Iran – Tehran
Arabia Standard Time
Palestine – Gaza; West Bank
Israel – Jerusalem
Lebanon – Beirut
Syria – Damascus
Jordan – Amman

Australia – Lord_Howe
Australia – Sydney; Melbourne
Australia – Brisbane
Australia – Adelaide
Australia – Darwin
Australia – Eucla
Australia – Perth

Pago Pago; Midway Island
Marquesas
Gambier
Pitcairn Island
Easter Island
Kiritimati
Samoa – Apia
Tonga – Tongatapu
New Zealand – Chatham
New Zealand – Aukland
Fiji
Marshall Islands; Gilbert Islands
Norfolk Island
New Caledonia – Noumea
Don't see the signup? You must be a SoFA member.If you are not a SoFA member, find out more about SoFA membership here.
If you are a SoFA member, and still don't see the signup, please login or follow the link from your email on the device you are on. If you are still not able to see the form, please contact support@sociocracyforall.org and we can make sure everything is working.