A sociocratic People's Party in Washington
October 26, 2021 @ 12:00 pm

-

1:30 pm

EDT

Free – £15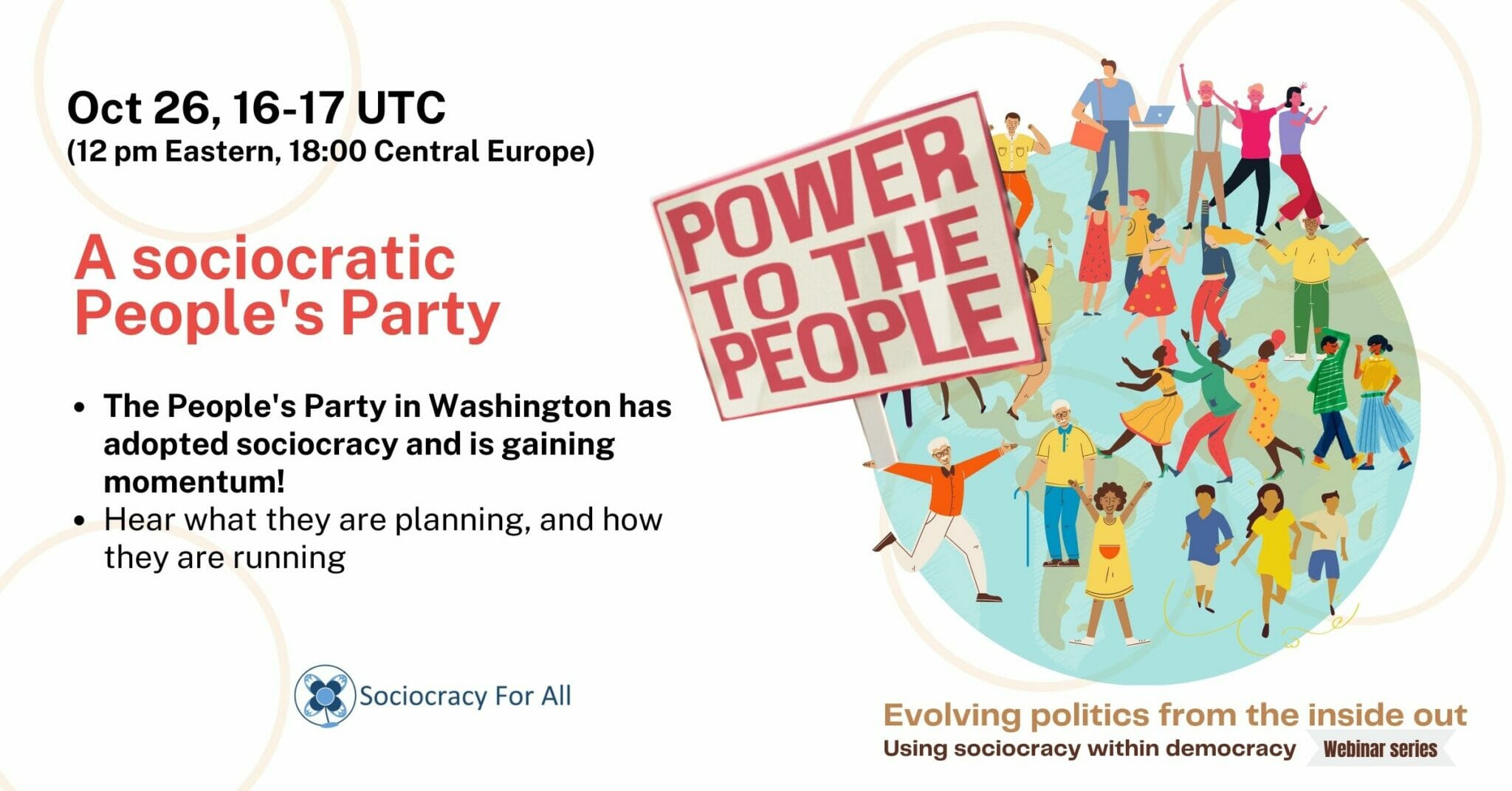 Maybe there's not much we can do about our federal or national governance system. But what we can do is change who is in it! In this webinar, we will host Jim Lee from the People's Party in Washington – a new party that is running sociocratically on the inside.
Hear what they are doing, how they run, and what their plans are for a better future!
Format
Interview with Jim Lee from the People's Party, with audience questions
Access
All events will be held on zoom (a video platform). You will receive the zoom link after registration. If you have questions about the class, send an email to events@sociocracyforall.org
Date and time
Oct 26, 16:00-17.30 UTC (Universal Coordinated Time).
Local times:
2021-10-26 16:00 UTC
UTC
Hawaii Time
Alaska – Aleutian Islands – Adak
Alaska Time
Pacific Time – US, Canada, Mexico
US – Arizona; Canada – Yukon; Mexico – Sonora
Mexico – Mazatlan; Chihuahua
Mountain Time – US & Canada
Central Standard Time (Central America)
Canada – Saskatchewan – Regina
Mexico City
Central Time – US & Canada; Mexico – Matamoros
Panama; Colombia; Ecuador; Peru; Jamaica; Mexico – Cancun
Brazil – Acre (Rio Branco)
Eastern Time – US & Canada
Cuba – Havana
Amazon Time (Brazil)
Atlantic Standard Time (Caribbean)
Bolivia; Venezuela
Chile – Santiago
Canada – Halifax, Moncton; Bermuda
Paraguay – Asunción
Canada – Newfoundland – St Johns
Argentina – Buenos Aires
Brazil – Brasilia; São Paulo
Greenland – Nuuk
Saint Pierre and Miquelon
Atlantic Islands – Noronha
Cape Verde Time
Azores Time
Russia – Moscow; Belarus – Minsk
Eastern European Time
Moldova – Chisinau
Central European Time
Western European Time – UK, Ireland, Portugal
East Africa Time
Central Africa Time
West Africa Time
Morocco, Western Sahara
GMT – Abidjan; Accra; Bissau
Russia – Vladivostok
Japan; Korea; Russia – Yakutsk
China; Singapore; Russia – Irkutsk
Indochina; Russia – Krasnoyarsk
Myanmar Standard Time
Bangladesh; Russia – Omsk
Nepal – Kathmandu
India; Sri Lanka
Pakistan; Maldives; Russia – Yekaterinburg
Afghanistan – Kabul
Armenia; Azerbaijan; UAE
Iran – Tehran
Arabia Standard Time
Palestine – Gaza; West Bank
Israel – Jerusalem
Lebanon – Beirut
Syria – Damascus
Jordan – Amman
Australia – Lord_Howe
Australia – Sydney; Melbourne
Australia – Brisbane
Australia – Adelaide
Australia – Darwin
Australia – Eucla
Australia – Perth
Pago Pago; Midway Island
Marquesas
Gambier
Pitcairn Island
Easter Island
Kiritimati
Samoa – Apia
Tonga – Tongatapu
New Zealand – Chatham
New Zealand – Aukland
Fiji
Marshall Islands; Gilbert Islands
Norfolk Island
New Caledonia – Noumea
Other events in the series
This webinar is part of a series of events on "Evolving democracy from the inside out". See the other events!